FRANK Gallery Chapel Hill
FRANK Gallery is a contemporary fine arts gallery, featuring work by local and regional artists. With a core group of 20 professional artist members, FRANK also showcases the art of 80 guest artists whose work includes paintings, ceramics, jewelry, wood working, sculpture and more. Every two months the gallery changes the featured artists' show and hosts an opening reception and an artist talk during the duration of the exhibit.
Within the last year FRANK relocated from Franklin Street to a bright new space in University Place in Chapel Hill. With the change in location also came growth of FRANK's non-profit sector. Through the Michael and Laura Brader-Araje Community Outreach Gallery FRANK is able to continue to enrich the community through exhibitions, events and arts education but in a newly expanded additional space.
Please follow our website frankisart.com for more details on classes, exhibits, events, and to be signed up for our mailing list.
Bench
I design and make wood furniture, guided foremost by character of the material and geometric intuition. I like to combine/contrast natural wood features and stark geometric elements in the same piece. I employ mostly classical joinery, such as mortise-and-tenon and hand-cut dovetails, and hand finish using varnishes, oils, wax, dyes and milk paint.
Stepping Stones
Peg Bachenheimer is an intuitive painter whose process involves discovery, experimentation and the building up of many layers of texture and color. She sees painting as an act of faith and a journey. Some of her paintings are about experiences or places remembered and re-imagined, others are abstract. Peg works in encaustic, oil and cold wax medium and acrylic mixed media.
Vases
Sasha's inspiration comes from microscopic images of various cells and microorganisms as the basis of all life. She is intrigued by dichotomy between the enormous beauty of these images and the fears or repulsiveness that people often have when faced with viruses or bacteria. Sasha is questioning our relationship with the world invisible to our eyes.
Peter, His Hat, Phillips Gallery, Washington DC
I'm obsessed with layering photographic images. For twenty years I've shot double exposures on film in the camera (not in Photoshop or in the darkroom), pairing people with works of art. After taking one picture, I cock the shutter again without advancing the film. Double exposures are born out of the marriage between intention and chance. I've lived in Chapel Hill/Carrboro since 1967. Until I retired, I taught American history at the University of North Carolina.
Red
Susan has worked as a studio potter for over 35 years. She received her MFA in ceramics from LSU, opened a gallery & pottery school in Charleston, SC and has worked internationally in leading NCECA , the major Ceramic Arts organization. Susan works in porcelain, her work is recognized for its elegance of form and lovely glaze colors.
Equinox 1
Shelly Hehenberger has been a working and teaching artist since completing a Master of Fine Arts Degree in Painting (1994) from the University of Cincinnati, where she taught basic drawing for two years. She has exhibited widely in the Carolinas since moving South in 2000. Her work focuses on imagery inspired by the Natural Sciences explored through drawing and painting.
Racoon Summer, Lamb
I try to connect with others through my art by sparking a sensuous reaction from the viewer. Currently I'm working in encaustics, a wax medium, because of its visceral appeal, both visual and tactile, with a focus on color, texture and pattern. Encaustics can produce rich textures with a sculptural quality or they can be scraped into flat planes that also suggest depth. Graphics or other ephemera can be incorporated into or applied to the surface, further enriching the visual appeal. Encaustics also accept pigment beautifully, producing rich, vibrant colors. Built-up layers of color, either transparent or opaque, create a sense of depth and/or volume. Encaustics carry their own inherent possibilities and challenges. Beeswax is used in encaustic paints as a carrier for pigment rather than the oil or water found in other more benign media. While the painter essentially controls oil, acrylic or water based paints, wax brings its own strong personality to the process. The painter has to accept and exploit its demands and limitations while the painting evolves through manipulation of those constraints. Thus, the painting process becomes a collaborative effort, with wax and the painter as equal partners.
Fast Moving Clouds
Carroll Lassiter is an oil painter. She enjoys revisiting familiar regional landscapes to record variations in light, season and mood.
Detail of Jack Works it Out
LeCluyse's primary practice is drawing. Her works are richly detailed windows into secret narratives. Her graphite drawings are often done on top of collaged surfaces that seem to serendipitously play into and enhance her imagery. The most successful drawings are ones that bring people into the image and let's them create a narrative of their own.
Natural Forces #3
Nerys Levy is a member artist at FRANK Gallery where she chairs the Community Outreach Committee. She paints the forms and forces of nature, many of her works are done on site while others are inspired by her on site sketches. Nerys has worked in many parts of the world including China, Europe, the Norwegian Arctic and Antarctica. She has exhibited both nationally and internationally and is particularly interested in climate change. Website: www.neryslevy.com Email: rilevy@mindspring.com
Botantico Convo, no.2
I choose playfulness and beauty and mystery over shock value and politics and angst. I choose painting because it's magical and prayerful and maddening and obsessive and utterly addictive. I grew up in Atlanta and Honolulu. I have an MFA from University of Michigan. I taught at Oregon College of Arts and Crafts and the Penland School. I have artwork in state and city collections in the Northwest and have pieces in corporate collections across the US. My commercial work includes print design for Fabricart Inc and illustrations for Whole Foods Market and World Wildlife Fund Canada. I currently live in Chapel Hill.
Sylvan Lake Triptych
Photography allows me to observe and interact more closely with the people and things around me. I like to work with in a contemplative manner that allows me to explore the play of light on the subject to refine and simplify the composition. This also allows the time to make the work a collaboration when photographing people. Different cameras and processes are used, ranging from ultra large format 20x24 inch Polaroid, infrared, homemade and underwater cameras. Choosing the format and medium changes the flow of the image making process, as well as the final image.
Helical Cocktail Table
Jim Oleson designs and makes furniture and sculptural objects that emphasize curved forms, using a wide variety of techniques to achieve these forms. His background in mathematics, physics, and medicine informs the entire design process from mechanical considerations to inclusion of shapes inspired by nature.
Vessel #3
Linda Prager, a member of the FRANK Gallery in Chapel Hill, has worked in clay for over 30 years. Her artistic expression focuses on functional and sculptural vessels, using layers of textures and colors to highlight and enhance the forms she creates. Her pieces are both architectural and organic. Her work can also be seen at the NC Crafts Gallery in Carrboro, NC, Baxters Fine Art gallery in New Bern, NC, and has been spotlighted as several exhibits both in New York City and North Carolina.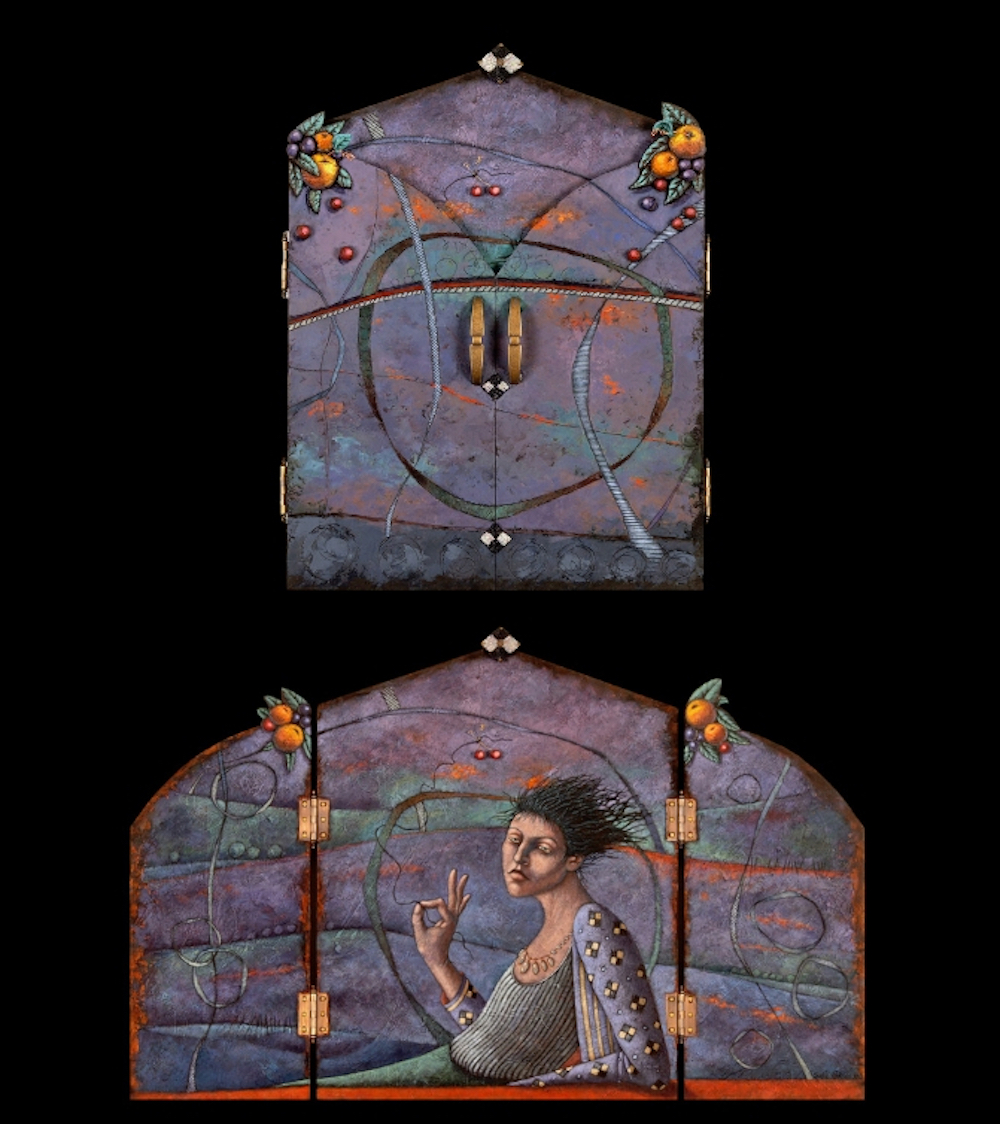 Tim moved in one direction memory in another
Sudie Rakusin is a visual artist and author. She uses her original art to create lush and surreal paintings enriched with mixed media, cold wax abstracts, coloring books, divination cards, illustrated journals, and more. Sudie's artwork shows environments where harmony exists between animal and human, and nature thrives. She lives with her dogs, surrounded by her gardens, in the woods.
Eye of the Storm
My work is informed by the natural world- in my latest work, by air, moisture, mist, and light. I work in layers to build a surface that conveys the sense of air currents and weather patterns. I use graphite, charcoal, collage, gesso , and acrylic paints to achieve the atmospheric depth I'm after.
Raku Vase
Exploring surface and color interests Carol. She builds layers by mixing mediums of encaustic and cold waxes, oil, paint, silk, and paper. She collages bits of found items from ticket stubs, old library cards, to razor clam shells found on the beach. She embraces the "happy accidents" of spilled paint, burned edges, and torn papers that add whimsy and surprise.
Le Pin Sunflower
John Rosenthal's one-person shows include exhibits at The National Humanities Center, the Asheville Museum of Art, The National Academy of Sciences in Washington D.C., Chapel Hill, Duke, the NIH in Bethesda, Maryland, the Panopticon Gallery of Boston, the Center for the Study of the American South, the Tyndall Gallery, the Gregg Museum, and The Green Hill Center for North Carolina Art
The Pool at Night
Rugen has shown her work in some forty exhibitions in Connecticut And North Carolina since 1980. In one, the juror Carolyn Lanchner,curator Of painting and sculpture, Museum of Modern Art NYC said " the artist walks The fine line between drawing representation and abstraction. And after visiting Her exhibition an artist from California wrote to her, "my wife and I are both painters We admire such 'off the beaten path' painters as Milton Avery and Morris Graves. In your work we found a like quality- a very personal perception and sense of color and A loving warmth towards your subjects."
Barn below Bereavement Center
Contemporary photography conceived through the synthesis of light, imagination, and technology. www.barbaratyroler.com https://www.instagram.com/btyroler/